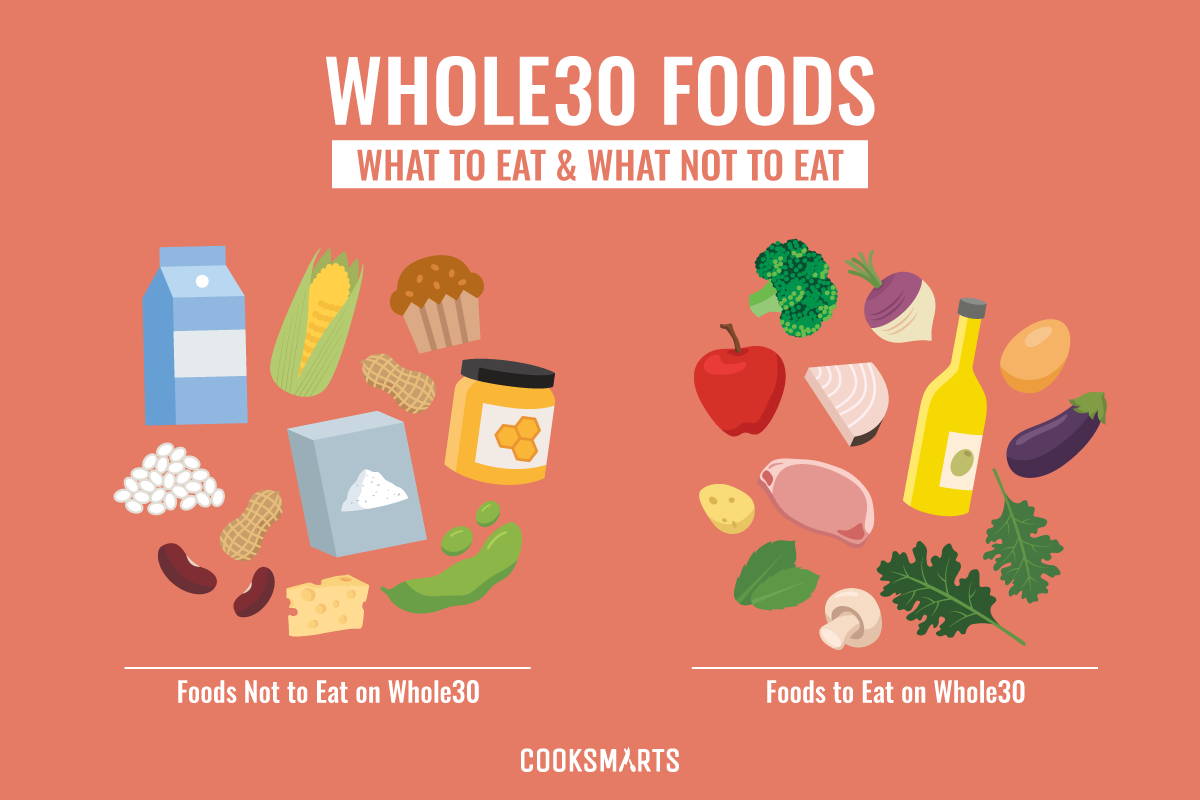 The Whole30 is not a "diet". It's a body, mind and gut reset and it is a lifestyle change. When I read the list and realized that I could not have BLACK BEANS (my ultimate fav) and I could not have ceasar dressing and shredded cheese; the instant fear rushed over my body. 


So, I thought it's ok. I'll always have corn. And GUESS WHAT? You can't have corn with this reset either. So, most of you by now probably want to throw in the towel and completely not do this reset. But this reset will challenge your mind and you will not only learn about your body and what certain foods do to it, BUT you will completely discipline yourself to be mentally stronger and wiser when it comes to life changes, especially food. 
One of the most popular things about Whole30 is that it is for 30 days only, but after that reset you will definitely keep eating healthy with less chemicals and processed 
foods and your body will immediately start talking back to you and letting you know what it does not want! This is a great thing!
You will learn to cook with all natural spices and foods. The best thing is to join the Whole30 community and you can start by visiting their official instagram page and also their receipe instagram page.
FROM THE WHOLE30 WEBSITE
Give us THIRTY DAYS
Your only job during the Whole30 is to focus on making good food choices. You don't need to weigh or measure, count calories, restrict calories, or purchase everything organic or grass-fed. Your only job is to stick to the Whole30 rules for 30 straight days… no cheats, no slips, no "special occasions." AND ABSOLUTELY NO USING THE SCALE! 
This isn't a hazing or a boot camp; the requirement for 100% compliance is grounded in science. We call the Whole30 a "reset," but at its heart, the Whole30 is an elimination diet. Elimination protocols have been around since the 1920's, and many doctors say they are still the gold standard in identifying food sensitivities—but only if you do them by the books. In order to accurately test how your body responds in the absence of these potentially problematic foods, you have to completely eliminate them. One bite of pizza, one spoonful of ice cream, one sip of beer within the 30-day period and you've broken the "reset"—and have to start over again on Day 1.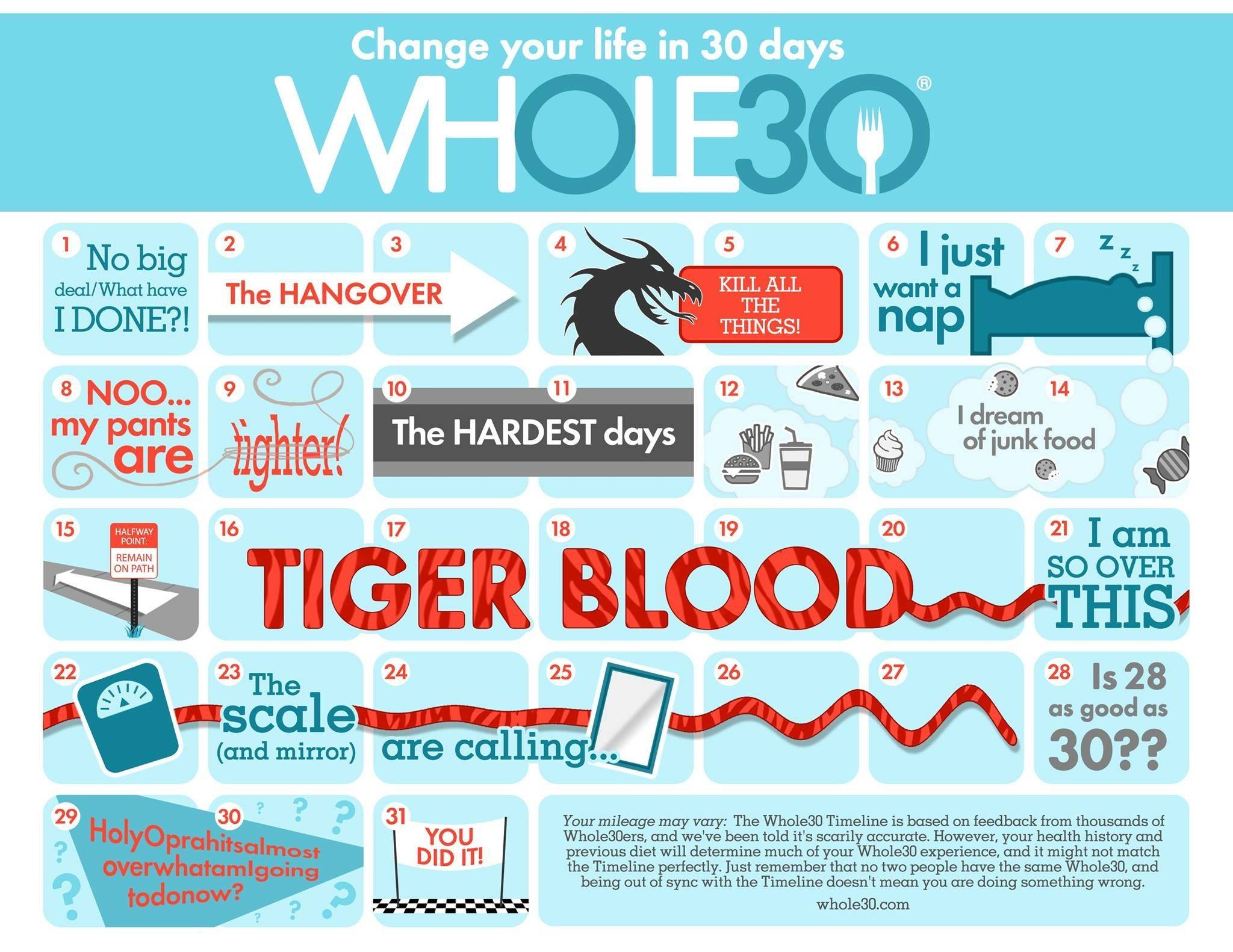 Another great thing about the Whole30 program is that you get a calendar to tell you how you will feel while you are on the 30 days. There is even a link that you can view that gives you a more detailed description of the how your body and mind will feel. So, it's a great way to continue to prepare for it. 
Honestly, the first 10 days were the hardest but everyone's body reacts different. So, you may not have a hangover as that has happened and then you have the WORST hangover ever that lasts for 3 days instead of 2. It just really depends on what your habits are and what you are consuming before you start the diet. If you are drinking everyday and eating fast food, you may have extreme symptoms. 
But don't worry! It will all even out and you will be feeling great and full of energy by the 16th day! 
The best thing to do is to start this reset with a partner or with a group! The first time I started the diet with a partner and then the 2nd time by myself and the 3rd time (3rd time's the charm) I did it with a
group of ladies and it was the best time and best support that I have ever received. From that group and the completion of the program it started a health and wellness journey for me! I am not fully on the whole30 but I learned really quickly what foods my body did not want (although my heart and soul loved them my body was begging me to stop consuming so much) such as breads, certain sugars (like cupcakes or donuts).  I learned the best recipes for my family and I continue to learn about food substitutes. It has been an amazing experience! 
OTHER THINGS THE WHOLE30 CHANGED IN MY LIFE
-Able to sleep through the entire night
-It tremendously helped with my anxiety
-And the first time it helped with my depression
-Clear mind
-Other personal female concerns I had at the time.
My advice to those who want to try this is ask all the questions you can, get a great support system and don't give up... GET UP! You got this, boo! xoxo
CREDITS:
https://www.instagram.com/whole30recipes/
https://www.instagram.com/whole30
https://whole30.com/
https://whole30.com/whole30-program-rules/
https://whole30.com/revised-timeline/